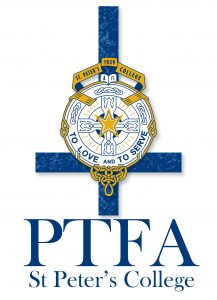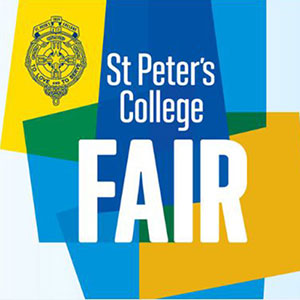 WELCOME TO THE PTFA
Peter's College PTFA is made up of a multi-talented and dedicated group of St Peter's College parents who aim to enrich the school community through social and fundraising events held during the year. The PTFA also provides an opportunity for you to connect with other parents of the school while helping benefit our young men through its initiatives.
Events that the PTFA assist with include: helping at Grandparent's Day, providing supper for the New Entrants' Information Evening and Mass of Initiation, running the second-hand uniform sales and the production of the school calendar.
Our greatest achievements over the past few years has been to fund the cross outside the hall and the outdoor seating and shade area off the yard.  
We welcome all current parents who wish to join and be part of the PTFA. You can be involved as much or as little as you like.  You can join the Committee and attend monthly meetings or become a Friend of the Committee. Friends of the Committee will be contacted from time to time for help with PTFA events but are not obligated to come to monthly meetings.
Please don't hesitate to contact me if you would like more information or have ideas you would like to share!
Meetings are held at 7.00pm on the first Monday of each month in the College Library, known as The Edmund Rice Library, except April and June's meetings. 
During times of Covid lockdown 3 & 4 meetings will be online (Zoom). If you would like to join, please contact the PTFA Chair for details. Please do not come to the school.
MEETING DATES 2021 ARE AS FOLLOWS:
Monday 1st February
Monday 1st March – Later time of 7.45pm (this meeting only)
Wednesday 7th April – AGM 6pm followed by general meeting at 7pm
Monday 3rd May
Tuesday 8th June
Monday 5th July – This meeting has moved to online and will not be held in the library. Please contact the chair via email if you would like to attend.
Monday 2nd August
Monday 13th September
Monday 1st November
.
Contact details:
Chair: Callena Lewis, E: callena.lewis@outlook.co.nz
Secretary: Jo Gander, E: ganders@xtra.co.nz
Please scroll down for information on:
How to join the PTFA
Adding your business to St Peter's College Community Business Directory
SPC fair 2021
To our amazing SPC Community THANK YOU!!!
 
What an incredible day it was on Sunday for our 2021 St Peter's College Fair!  The rain held off, the crowds came, the fun & laughter flowed, bellies were filled & by all accounts, everyone seemed to have a pretty awesome day!
 
We are so incredibly grateful to have had the support of the many wonderful supporters, sponsors, donors, friends & whanau from all over Auckland, so thank you for joining us, reaching into your pockets and making this year's Fair the success it was!
 
We're still tallying the numbers & balancing the books, but so far it's looking like being another incredible amount with somewhere around the $100,000 raised!!!  This is something we did not expect, especially during these financially & emotionally trying times as we all continue to navigate the challenges of the Covid-19 pandemic.  (NOTE: Final figures will be announced in a couple of weeks once all the financials are complete!)  The main goal for this Fair was to bring our beautiful community back together to relax, celebrate & enjoy, whilst helping to raise a bit of money towards the recently completed 'Watty's Nets'. Last year's Fair was to have had the raised funds go towards this project, and of course as you all know, sadly we had to cancel that one just 9 days out which was heart-breaking beyond words. 
 
So thank you thank you THANK YOU to absolutely everyone who supported us!  Whether as an amazing Portfolio Holder on our superb Committee, an incredible volunteer on a stall, at collections & elsewhere, a teacher wrangling students with cake boxes for those delicious cakes (thanks bakers!!), a financial donor, product supplier, Quick Fire raffle addict, the purchaser of hundreds of books, or simply an ice cream or bottle of water – EVERYONE made a massive difference & helped, so THANK YOU sincerely from the bottom of our hearts!
 
Until next time, for the SPC Fair 2021 – that's a WRAP!
 
Tracy Cox
SPC Fair Chairperson