SPEAK magazine 2020
SPEAK Magazine is written and edited by St Peter's College Students
From the Editor: Jacob Erceg
Speak Magazine was created with the vision of a magazine for the students by the students. It allows students to express their own personal insight in new ways.
When introduced by Joseph Sothcott in 2018, it received incredibly positive feedback from his two issues. He described Speak Magazine as "a place where students can discuss and debate important concerns, as well as have some fun." It seems quite clear that he excelled in his goal leading to the success of Speak, with it still continuing now.
Last Year, Jack McConnell chose to expand upon Joseph Sothcott's idea for the Speak Magazine. This year, however, I would like to take Speak in new directions. I would like to incorporate each of the main aspects of the school in each issue, with additional topics more than welcome. I aim to fully embrace everything that makes St Peter's College the strong and connected community that we all know that it is.
For 2020, I have some big shoes to fill, and I am more than open to the challenge which lays in front of me. One of the two main objectives of Speak, is to allow the students voices to be heard without being toned down. Often, as students, we feel that we don't have a voice on issues that affect us. However, Speak aims to counter this thought.
Each student has their own opinion on different topics, which I would like to be heard regarding the issues they believe are important. The other main objective of Speak, is to keep the student body aware of what is happening in and around the school through the different areas of the college.
Speak is unique and different to that of most magazines as it is up to the students to display their thoughts and perspectives which they wish to be revealed. One of the main benefits of Speak is that it grants the students an opportunity to take their passion for writing one step further, by allowing their opinions and personal knowledge to be shared in a public space.
I am grateful for the chance to be able to guide Speak throughout its third year, and I hope that I can live up to the expectations and responsibilities which come with it. I only hope that I can do as good of a job as the last to leaders, to ensure that this continues for future years. Please enjoy the first 2020 edition of Speak Magazine, with hopefully more to come.
SPEAK MAGAZINE ISSUE 1, 2020 (click image below to view)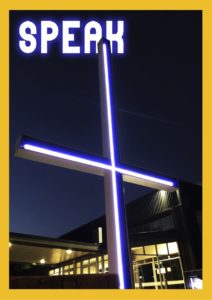 Speak Magazine 2019
SPEAK Magazine is written and edited by St Peter's College Students
From the Editor: Jack McConnell
Last year, Speak's first issue was released to incredibly positive feedback. Joseph Sothcott created two issues of the magazine, which succeeded in being what he described in his opening letter, 'a place where students can discuss and debate important concerns, as well as have some fun.'
Keeping this in mind, I believe the reader should spare me some sympathy due to the task now at hand, that is, following an exceptional first outing. Prospective leaders may fear the possibility of gaining charge of a failing organization, nobody particularly envies the captain of a sinking ship, and yet, by contrast, I am personally daunted by the previous successes of this particular group. Please don't get me wrong, I am overjoyed to have been given a chance to personally helm Speak throughout its second year. I simply hope that the third, fourth and potential fifth installments of this magazine, now in my care, can fill the proverbial boots of their predecessors.
The magazine's goal this year is a natural extension of Speak 2018's original concept. We aim to provide a continual platform upon which the student's voice is given top priority, with the particular value placed upon displaying the unique and unheard perspectives of the student body. It is my personal wish that Speak's articles will display the eloquent and opinionated faculties of the Saint Peter's man, as well as these writer's own creativity and personal flair.
One of the brilliant things about this magazine is that while contribution is entirely optional, passionate students still offer material for publishing. The articles you read have therefore been freely written because of a student's wish to share opinions and information they might have. Students are free to choose what it is they write about, and this self-governance, as well as creating independently motivated people, helps those that are truly passionate about writing to improve their skills. Last year, this magazine provided me with a reason to write about personal interests that I would not have had without its conception. The continuation of this magazine is important to me, as I expect it to inspire future Saint Peter's men to explore writing, outside of the classroom.  In my opinion, there is a serious lack of opportunities and encouragement, worldwide, for intermediate and high school students to write anything but essays. I am proud to attend a school and lead a magazine, that tries to remedy this problem.
This issue covers its bases on content. Advice to students about device selection, an intellectual discussion about the purpose of education, and the first in a potential series of intercepted letters are all present in 2019's first issue. Thank you for your patience in reading my opening letter, I promise the contributions from my peers will not be nearly as dull as I have been. Please enjoy the third ever edition of Speak magazine,
Jack McConnell
Editor
SPEAK MAGAZINE ISSUE 1, 2019 (click image below to view)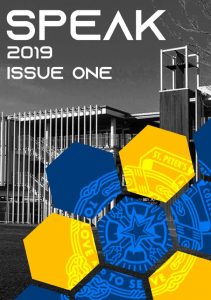 Speak Magazine 2018
SPEAK Magazine is written and edited by St Peter's College Students
From the Editor: Joseph Sothcott
"It is my great pleasure to present the first ever issue of Speak – St Peter's new student magazine. It's been a bumpy road to get to this point.
We've endured obstacles and delays … and you've endured the infamous dry mouth speech at Senior Assembly. But the team at Speak is excited to share with you what we hope can become a mainstay in the fabric of St Peter's College.
We believe a student magazine is an important initiative for SPC. Often, as students, we feel that we don't have a voice on issues that affect us – as if we are just doing as we are told by those who know best – our parents, teachers and even politicians. The value of a forum for students' voices should not be underestimated. It is our hope that Speak Magazine can be a place where students can discuss  and debate important concerns, as well as have some fun. A key focus of this issue is the question of how we students interact with our school and how we might change it for the better. Whether you are Year 7 or 13, the importance of adaptability cannot be understated, it's a quality we should all strive for, especially as the student body collectively endeavours to make a positive impact on our school and the lives of those around us.
We hope this issue of Speak sheds new light on an issue you previously haven't given much thought to, or allows you to embrace a new perspective you haven't considered before. Thank you very much for taking the time to read the first Issue of Speak Magazine, we
can't wait to present issue number two!"
SPEAK MAGAZINE ISSUE 2 (click image below to view)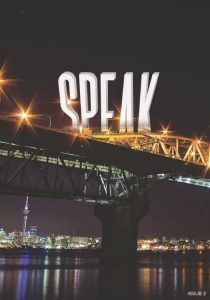 SPEAK MAGAZINE ISSUE 1 (click image below to view)