SPEAK Magazine is written and edited by St Peter's College Students
From the Editor: Joseph Sothcott
"It is my great pleasure to present the first ever issue of Speak – St Peter's new student magazine. It's been a bumpy road to get to this point.
We've endured obstacles and delays … and you've endured the infamous dry mouth speech at Senior Assembly. But the team at Speak is excited to share with you what we hope can become a mainstay in the fabric of St Peter's College.
We believe a student magazine is an important initiative for SPC. Often, as students, we feel that we don't have a voice on issues that affect us – as if we are just doing as we are told by those who know best – our parents, teachers and even politicians. The value of a forum for students' voices should not be underestimated. It is our hope that Speak Magazine can be a place where students can discuss  and debate important concerns, as well as have some fun. A key focus of this issue is the question of how we students interact with our school and how we might change it for the better. Whether you are Year 7 or 13, the importance of adaptability cannot be understated, it's a quality we should all strive for, especially as the student body collectively endeavours to make a positive impact on our school and the lives of those around us.
We hope this issue of Speak sheds new light on an issue you previously haven't given much thought to, or allows you to embrace a new perspective you haven't considered before. Thank you very much for taking the time to read the first Issue of Speak Magazine, we
can't wait to present issue number two!"
SPEAK MAGAZINE ISSUE 2 (click image below to view)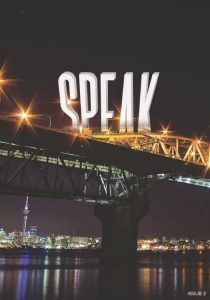 SPEAK MAGAZINE ISSUE 1 (click image below to view)