Pastoral Care Team
The main focus of the Pastoral Care Team is the support of students or, occasionally, staff who are identified to be struggling with College life. The problems students experience are too numerous to summarise but include health, family, financial and personal problems. Students are assigned to individual members of the PCT. The support person meets with their assigned student on a regular basis. This can include home visits, peer mentoring, parent or outside agency conferences. All identified boys are closely monitored by somebody on the PCT in the strictest confidence.
Any referrals to the PCT can be made through the relevant Head of Year (HOY).
Respect Code

Respect Code
Attendance Office Procedures
Our Attendance Officer is Mrs Callena Lewis, T: 09 524 3934 or E: attendance@st-peters.school.nz
1. HOW TO NOTIFY ABSENCES
When your boy is away from school for any reason you must ring the College on 09 524 3934 for the Attendance Office. Information required:
Your name
Your boy's name
His house class
The reason he is away
(whether he is only away for one period during the day or is sick, you must ring in DAILY if he is absent).
IMPORTANT: On his return to school, an explanation letter/note is also required to be forwarded to the Attendance Office to verify his absence.
NOTE:
For any non-school related absences such non-school representative sport events, even if for one day, a request must be put in writing to the Headmaster in advance.
Absence during term time for extended holidays is strongly discouraged. Any request for additional holidays must be put in writing to the Headmaster.
2. HOW TO NOTIFY LEAVING SCHOOL DURING SCHOOL HOURS
If your son is needing to leave school for an appointment, he requires a note from a parent and he MUST sign out at the Attendance Office prior to leaving school.
3. LATENESS
Boys are to arrive at school and in class on time
Boys who arrive late need to sign in at the Attendance Office
Genuine lateness must be explained with a note
Unexplained lateness will result in a detention
Heads of Year (HOYs)
The Heads of Year have overall responsibility for the pastoral care and academic progress of boys in their respective year level.
The Deputy Headmaster Pastoral Care is Mr Grant Hansen, E: ghansen@st-peters.school.nz, T: 09 524 8101 x 7342
The Heads of Year are:
The SPC Man (FRESH P)
The SPC Man is a man of:
Faith
Respect
Excellence
Service
Heart and
Presence
(a reminder is FRESH P – or FRESH PRESENCE)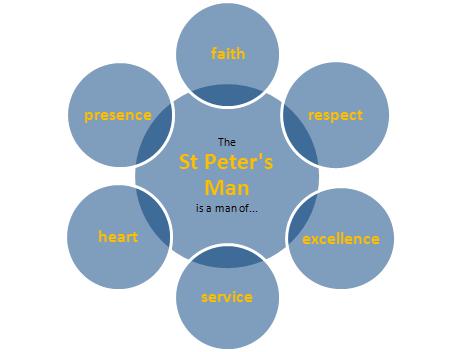 Career Guidance
Careers Support for SPC Students
Welcome to the Careers' Centre.  My name is Isobel Coleman and I am the Careers Advisor at St Peter's College.
Thinking about future career options and pathways can be overwhelming, but having access to relevant career information and friendly support makes this easier.
I can provide you with the following career information:
Information of different jobs, occupations and industries
Study options ranging from universities to apprentice training organisations
Subject choice support
Online tools to help you understand your interests and talents
Details on scholarships, career events and other great opportunities
Tips and templates for making a great CV
All year 13 students will have a mandatory career session with me this year, but students from other year groups are welcome to visit me or to make an appointment.
Where you can find me
I am located upstairs in G Block (room G15).  Come in and say hi if my door is open!  If I am unavailable then please leave a message with Mrs Lewis and I will follow-up with you.
You can also contact me on careers@st-peters.school.nz or 09 524 8108 ext 7334.
Isobel Coleman
Careers Advisor