Please click on the links below to view more information
End of Term Trips and College Dates
Thursday 4th July is the last school day with Friday 5th  being a Teacher Only Day.
School reopens on Monday 22nd July normal school hours.
Three overseas trips are occurring over the holiday period:
Five students competing in the Henley Rowing Regatta, London
Twenty-six students going to NASA and 
Ten students going to The Philippines
We wish you all a safe journey and a rewarding experience abroad.
Calendar snapshot - Term 3, weeks 1 & 2
Edmund's Shop Closed for Stock Take: Tuesday 2nd - Friday 5th July
Please note that during Week 10, Edmund's Shop will be closed for stock take on the following days: Tuesday 2nd, Wednesday 3rd, Thursday 4th and Friday 5th July.
Down for the Pack
A story of the most extraordinary season.
In this magazine, Sports writer Adam Julian has written a comprehensive history of the remarkable SPC 2018 1st XV season.
Along with player interviews, the magazine contains profiles of our 2019 1st XV who travelled to Japan for the Sannix 1st XV World Cup earlier this year.
Copies are strictly limited – make sure you don't miss out and purchase one now!
To secure your copy go to: https://www.trybooking.co.nz/BGX
May be posted – NZ and International Postage options are available at point of purchase:
Standard Within New Zealand
New Zealand Rural
Australia
UK
USA
or click on the poster below: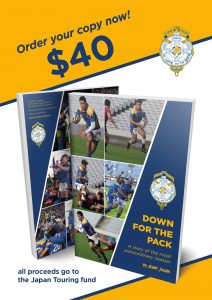 Father- Son Breakfast - SOLD OUT: Thursday 8th August 2019
Year 7 & 8 Parent-Teacher Interviews - Tuesday 23rd July 2019
Email with code & details to Year 7 & 8 parents on Monday 1st July 2019
Bookings close on Tuesday 23rd July 2019 at midday
Year 12 Parent-Teacher Interviews - Thursday 25th July 2019
Email with code & details to Year 12 parents on Thursday 4th July 2019 (to be confirmed)
Bookings close on Tuesday 25th July 2019 at midday
Sports Teams' Photos: Friday 26th July 2019
Sports Teams' photos take place on Friday 26th July from 8.30am – 1.30pm (approx)
Please click on the links below to view your timetable – please ensure you read the required uniform requirements and timings carefully – thank you

 Sports Photos Uniform Requirements

 Photographer ONE Schedule

 Photographer TWO Schedule
Year 11 Parent-Teacher Interviews - Thursday 1st August 2019
Email with code & details to Year 11 parents on Wednesday 24th July 2019
Bookings close on Thursday 1st August 2019 at midday