KEY DATES OF TERM 3 2023
Wednesday 23rd August – Father-Son Breakfast
Friday 25th August  – Special Interest photos
Monday 28th August to Friday 1st September – Winter Tournament Week
 Thursday 31st August – Music Awards Dinner
Monday 4th to Friday 8th September – Senior Cambridge Preliminary Exams
Monday 11th to Thursday 21st September – Scholarship Preliminary Exams
Tuesday 19th June to Friday 22nd September – Kairos Retreat
Friday 22nd September – End of Term 3, Teacher Only Day
Head Prefect Speech 2023: Dominic Simons
Please click HERE to read our Head Prefect 2023, Dominic Simons' speech to the senior assembly, February 2023
Down for the Pack
A story of the most extraordinary season.
In this magazine, Sports writer Adam Julian has written a comprehensive history of the remarkable SPC 2018 1st XV season.
Along with player interviews, the magazine contains profiles of our 2019 1st XV who travelled to Japan for the Sannix 1st XV World Cup.
Copies are strictly limited – make sure you don't miss out and purchase one now!
To order a copy email admin@st-peters.school.nz 
May be posted – NZ and International Postage options are available at point of purchase:
Standard Within New Zealand
New Zealand Rural
Australia
UK
USA
or click on the poster below: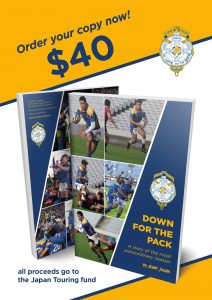 Please click on the links below to view more information