Please click on the links below to view more information
Click on expandable toggles below for more information also:
Edmund's Shop Temporary Location Term 4
During Term 4 the shop is undergoing renovation.
While this is happening it will be open normal hours but from classroom BO3 in the Science Block.
If you are unsure of the location then please call by the Main Office for directions.
TERM TIME OPENING HOURS
Monday – Thursday
9.30am – 2pm for parents
INTERVAL & LUNCH for students
Fridays
8.00am – 12.30pm for parents
BEFORE SCHOOL & INTERVAL for students
EDMUND'S SHOP - EXTRA OPENING HOURS END 2019 / BEG 2020
Edmund's Shop will be operating from B02 & B03 on these dates:
Saturday 16th November 2019, 9.00am – 4.00pm
Saturday 23rd November 2019, 9.00am – 4.00pm
Saturday 30th November 2019, 9.00am – 4.00pm
Please bring your son with you when purchasing uniform, OR bring a sample of his clothing for sizing.
Important: do not come without one of these.
January 2020 extra opening hours to be confirmed.
Exam Timetables
See current Exam Timetables under the Academic Menu:
CIE Tutorials
See current Tutorials under the Academic Menu:
Tongan Community Celebratory Dinner: Saturday 23rd November 2019
St Peter's Whanau Community End of Year Celebration Dinner: Saturday 30th November 2019
Samoan Celebratory Dinner: Saturday 7th December 2019
6.30pm in the College Hall.
For full details click icon below including how to book tickets.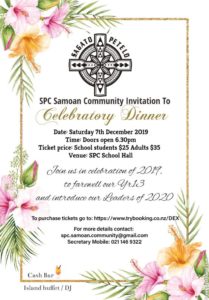 or click to view FLYER
Registration Week & First Day of Term Details 2020
Or click HERE to download
Down for the Pack
A story of the most extraordinary season.
In this magazine, Sports writer Adam Julian has written a comprehensive history of the remarkable SPC 2018 1st XV season.
Along with player interviews, the magazine contains profiles of our 2019 1st XV who travelled to Japan for the Sannix 1st XV World Cup earlier this year.
Copies are strictly limited – make sure you don't miss out and purchase one now!
To secure your copy go to: https://www.trybooking.co.nz/BGX
May be posted – NZ and International Postage options are available at point of purchase:
Standard Within New Zealand
New Zealand Rural
Australia
UK
USA
or click on the poster below: