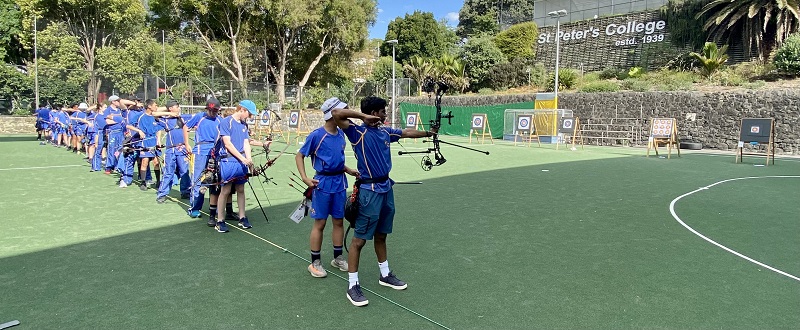 Archery is a well established sport at St Peters' College starting in the 1990's. In 2011 the sport was developed
further with the addition of our own successful programmes.We have over 30 archers shooting at the Archery Range
located outside the gym on Friday afternoons. The archersparticipate in Inter-school postal shoots, SPC Achievement
rounds as well as hosting our own SPC Invitational ArcheryCompetition at AAC with a number of secondary schools
from Auckland attending.
You can start archery from year 7 -13, at any time of theyear. If you are interested please come to a Friday shoot to
observe, parents and students are most welcome. Or contact the manager for an info pack, we would love to hear
from you.
​YEAR 7 -13 ARCHERY:
Before you can start shooting at SPC you need to attend an Archery Novice course and enrol at your local archery club.
You are then be ready to join the squad!
Please contact the Manager for when the next novice course will be held or follow the links below to the Auckland Archery
Club or Mountain Green Archery Club to enrol directly with them.
Term 1:
– Wednesday: 3 – 6pm AKSS Archery League for 7 weeks for Years 9-13 at Auckland Archery Club.
– Match Play Competition at AAC.
Term 2:
– SPC Invitational Cup at AAC.
Term 3:
– Winter AIM Tournament at AAC.
Every Friday: 3 – 5pm at the SPC archery range,participating in the Archery in Schools Postal Shoot and SPC
Achievement Ladder. All archers to attend.
SPC Archery Fee – $180 Archery Club Membership
Competitions – Various costs ranging from $12 to $40 as a
one off charge.
Archery Gear Hire Fee – $120 for 1 year for Novices only
and to be returned in Nov at the end of the archery shooting
calendar.
NB. After 1 year archers must purchase their own gear.
​All SPC Archers must also be members of an Archery Club and practice in the weekends.
Auckland Archery Club: https://aucklandarchery.org.nz
Mountain Green Archery Club: https://www.mgac.org.nz
Massey Archery Club: http://www.masseyarchery.org.nz
SPC PE shirt, SPC hoodie and SPC PE shorts or trackpants. Refer to Sports Uniform Requirements.
We are an all-weather sport so pants will be beneficial in therain and wind. Skins or other undergarments for Term 2 and3 are also advised.
Shoes must be covered i.e. sneakers. NOT school shoes
Please contact Fleur Maggs for registration information – amfm@xtra.co.nz
Do not pay until charge of $180 until registration is confirmed.
Please email adrumm@st-peters.school.nz
MANAGER: Fleur Maggs amfm@xtra.co.nz